Features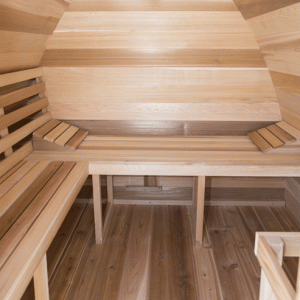 Clear Cedar Sauna Benches
Clear red cedar benches and sauna door.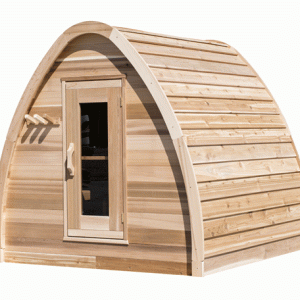 Knotty Cedar Exterior
Knotty cedar bevel siding roof.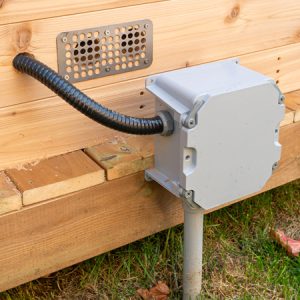 Easy Installation
Easy electrical installation by certified electrician.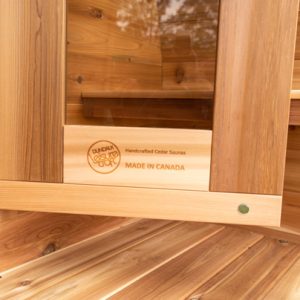 Solid Wood
Solid Wood construction with full glass window in sauna door.
Upgrades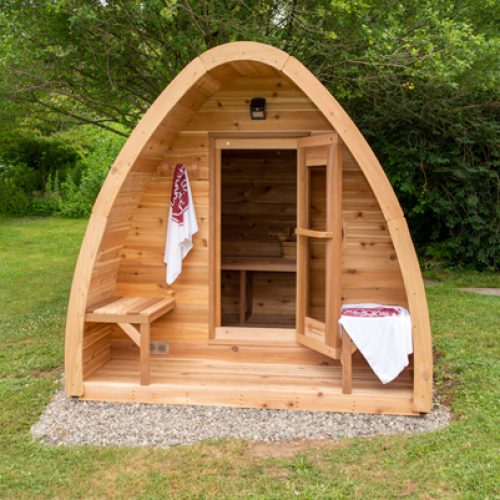 Front Porch
Optional 2' (60cm) Front Porch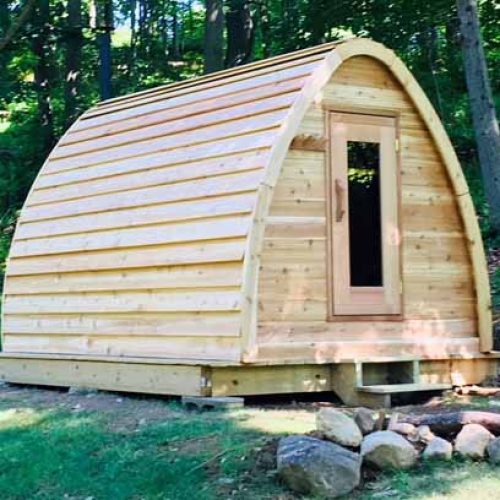 Changeroom
Optional 4' (120cm) Changeroom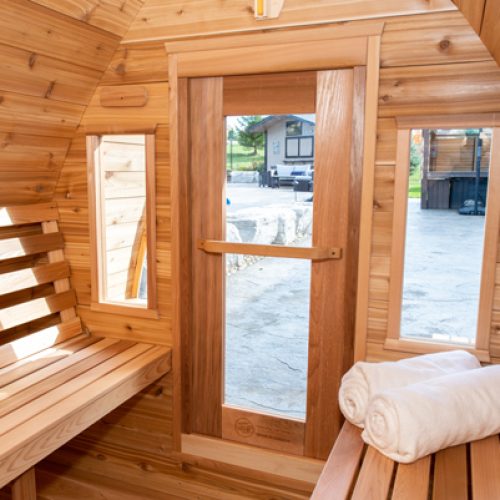 2 Windows in Front
Optional 2 windows in front wall.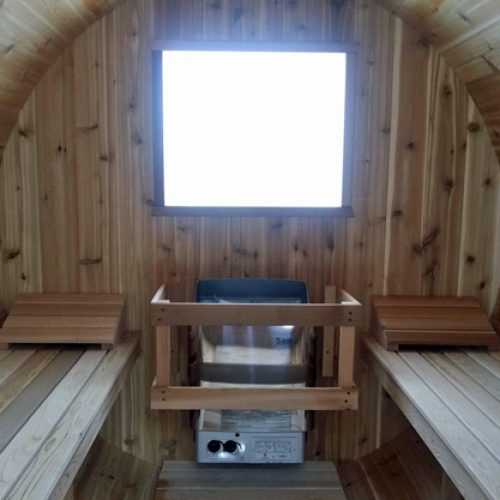 Square Window
Optional Window in back wall with electric heaters only.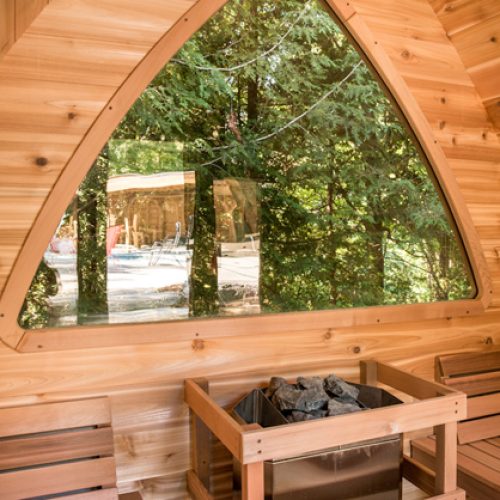 POD Window
Lighten up your POD Sauna with this large window in the back wall.
Accessories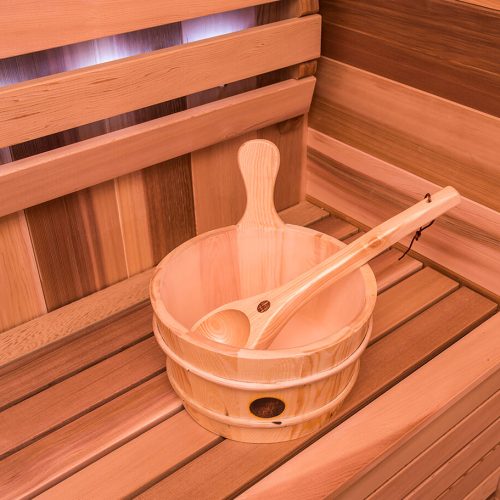 Bucket & Ladle
Our pine 4 litre Sauna Bucket with plastic insert is perfect for any sauna. The wood ladle is the perfect size to add water to the rocks and get the steam that you need.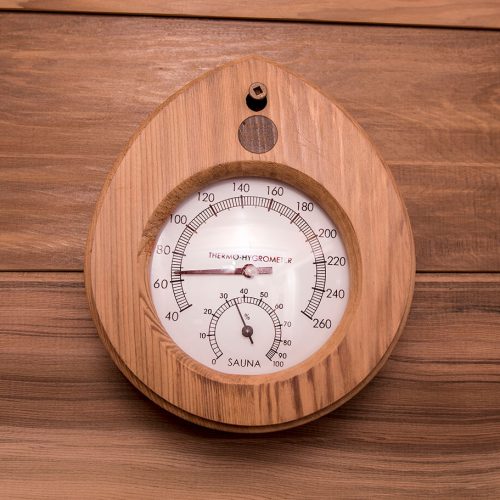 Thermometer
Our wood thermometer is the ideal way to ensure you get the sauna to the desired temperature.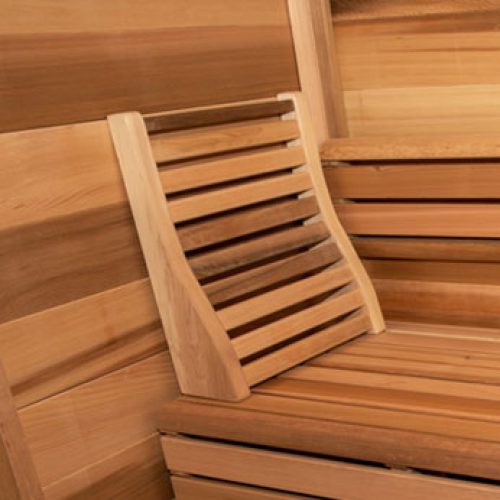 Elite Backrest
This cedar backrest will make your stay in the Sauna so much more comfortable.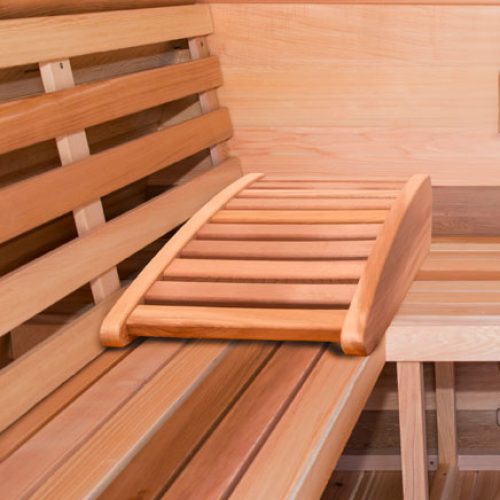 Comfort Backrest
This dual-purpose cedar head or backrest is made for comfort. Use for your back or to lay down and use for your head. You will never have been so comfortable.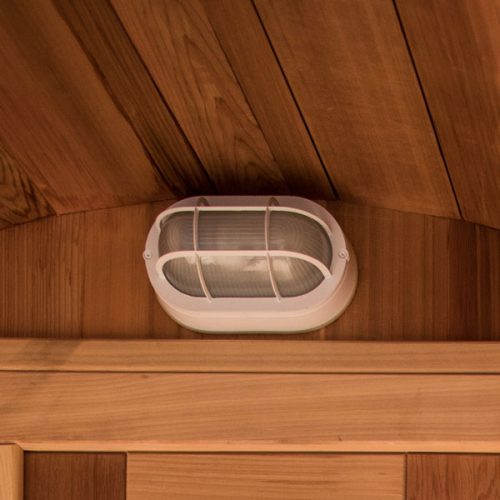 Interior/Exterior Electric Light
This light works great inside or outside your sauna. The frame is very strong and attractive.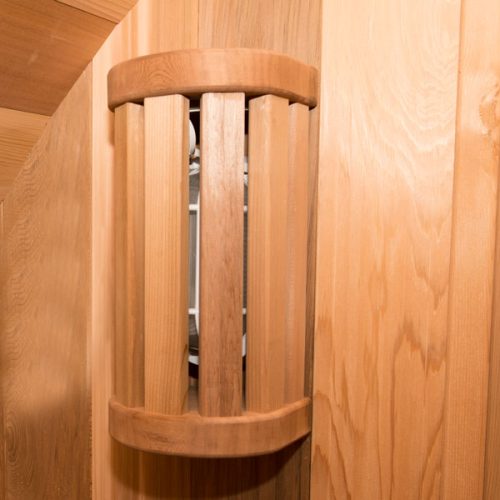 Cedar Light Shade
This stunning cedar light cover is perfect to cover our wall mounted light.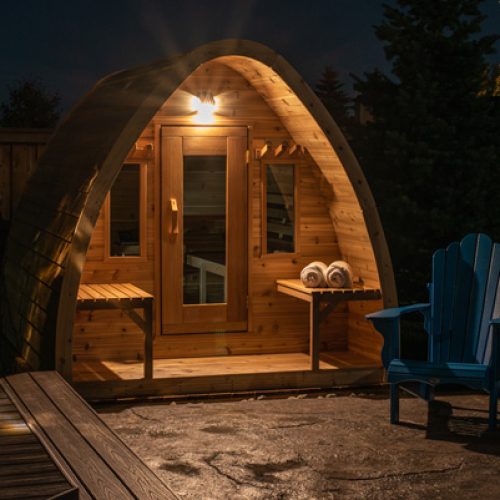 Outdoor Solar Light
This outdoor solar light is perfect to light up the entrance to your sauna. Easily mounted to your sauna.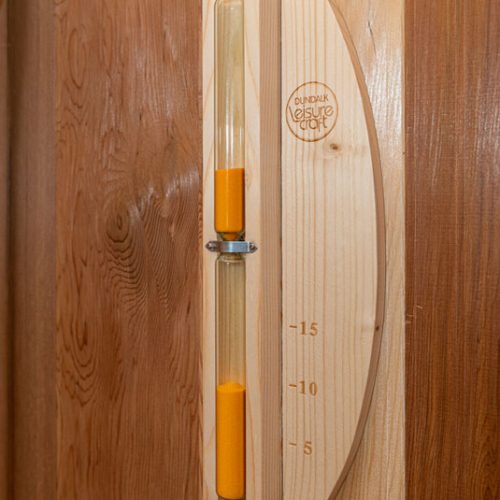 Wall Mount Sand Timer
This sand timer is perfect to mount in your sauna to keep track of time you are in there and enjoying the benefits of your sauna.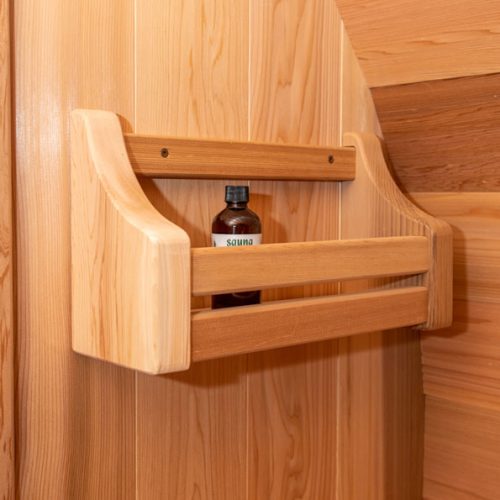 Cedar Bottle Shelf
This shelf is perfect for keeping your Eucalyptus bottle or water bottles safe while you use the sauna.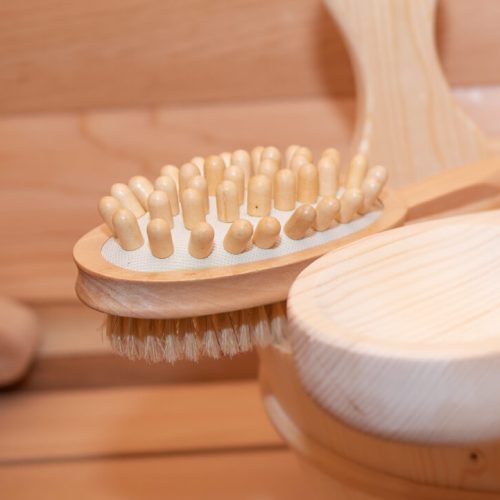 Massage Brush
Add This Massage brush to your accessory collection for relaxing sauna secessions.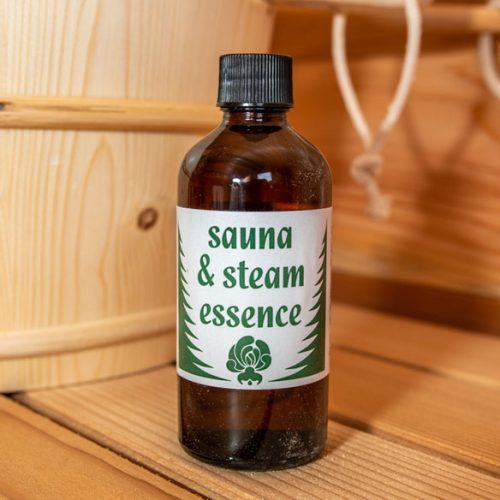 Essence Oil
Mix this Eucalyptus Oil into the water and when you add to the rocks you will enjoy all the benefits of aromatherapy. This aroma is beautiful and very relaxing.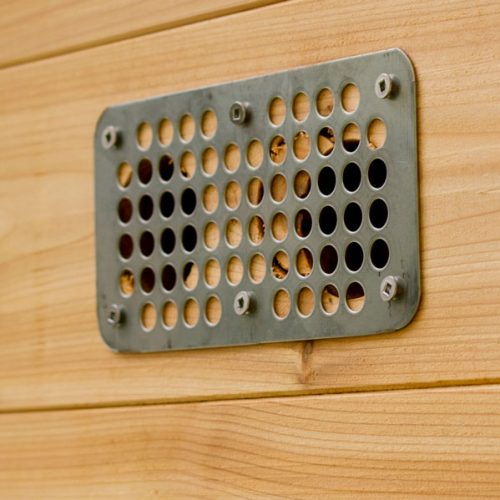 Vent Kit
Vent kits provide an even air flow through your sauna making it possible for higher more significant temperatures.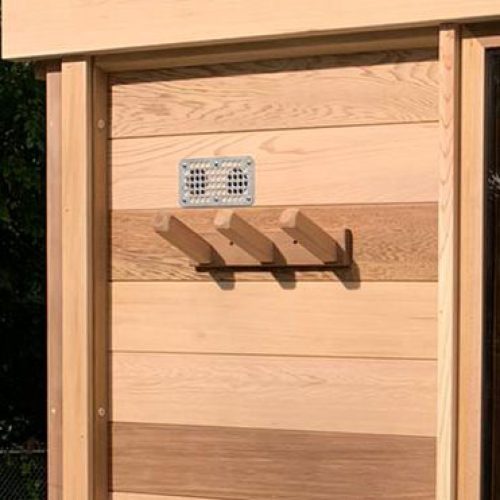 Hooks
Add 3 solid cedar wooden hooks to your sauna for a nice place for your towels.
Heaters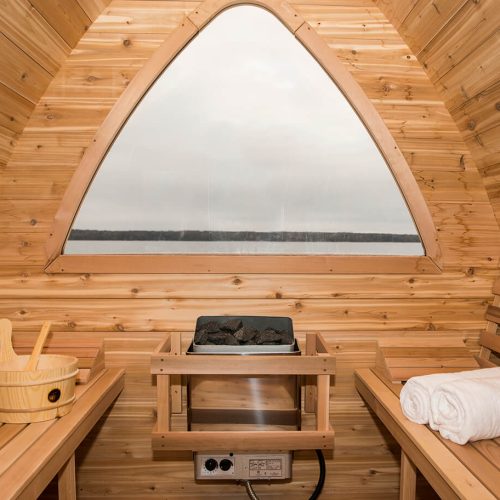 Sakku Electric Heater
Saaku 6kw stainless steel electric heater.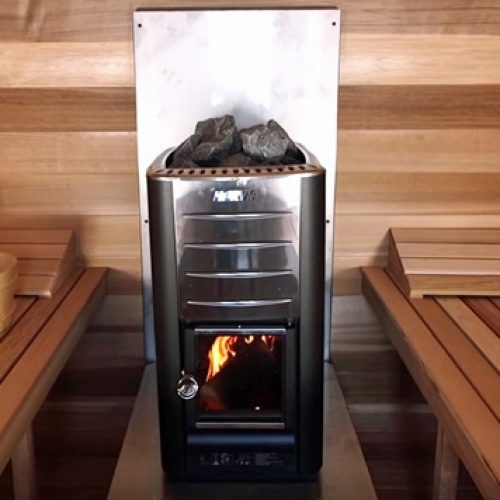 Wood Heater
Woodburning Sauna Heater Options.
Warranty
Dundalk LeisureCraft Inc. warrants our saunas against defects in materials and workmanship under normal/residential use for a period of five (5) years, as applicable, from the date of receipt of the product by the original end-user consumer. This warranty does not apply to normal wear and tear and/or natural weather conditions. This warranty does not cover regular required maintenance of the sauna, (eg. Tightening bands on the barrels, cleaning or staining the sauna) refer to your sauna assembly manual for maintenance guidelines. This warranty does not cover misuse or negligence and the manufacturer and associated retailers are not liable for any injury or damage caused by the product. This warranty is a parts only warranty and any service or labor costs would not be considered as part of the 5 year warranty.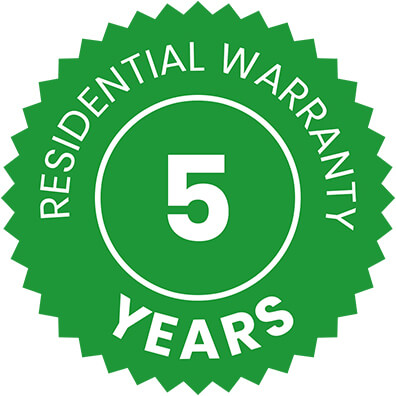 Support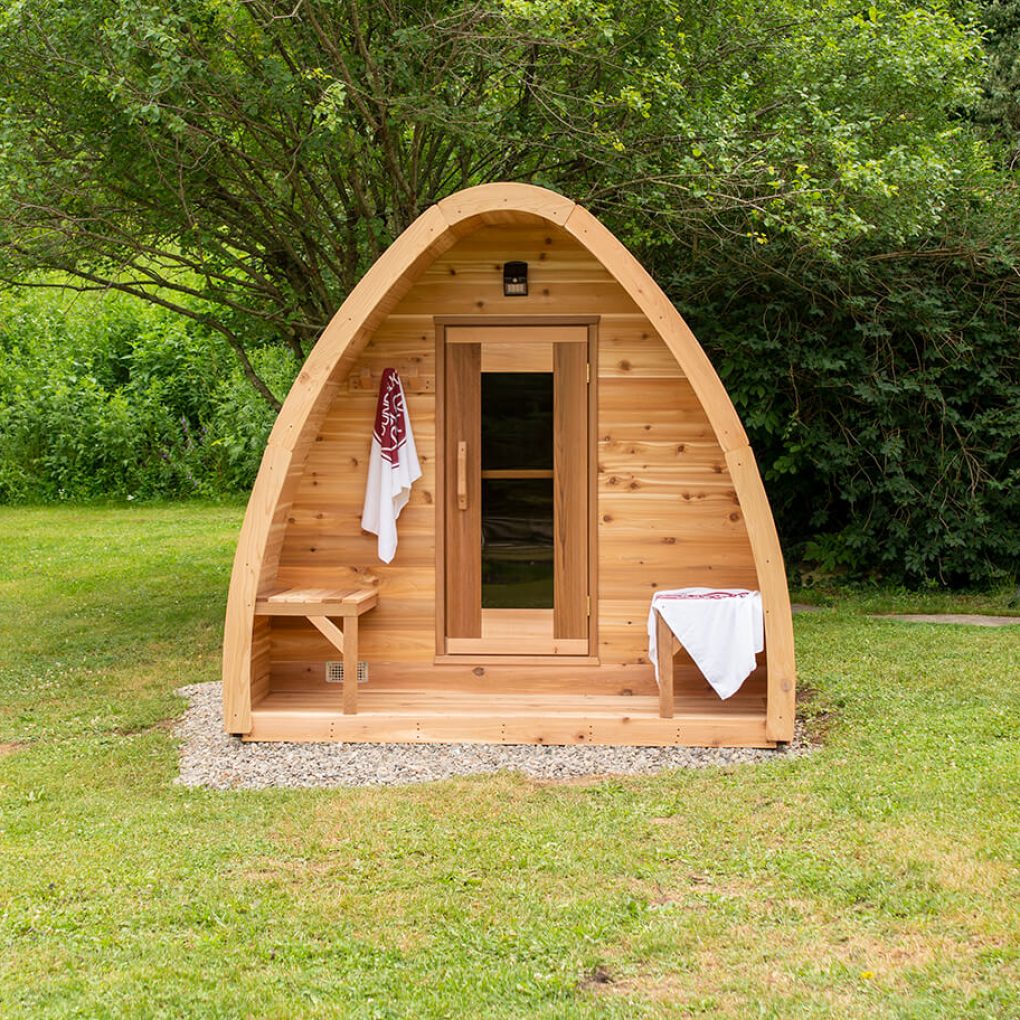 Contact Us
MiniPOD with Porch Assembly
MiniPOD with Porch Promotional
The Outdoor Mini Pod Sauna is a unique design that will enhance your urban backyard, ski chalet or lakeside cottage. Handcrafted in Canada with Canadian western red cedar this quality kit will give you years of sauna enjoyment. A full length tempered glass window on the door allows in some natural light for added relaxation. Enjoy the great outdoors all 4 seasons with this stylish sauna at your home or cottage!
Saaku Electric Sauna Heaters are manufactured by TyloHelo Inc. The Saaku CP models have the control built in the front base. The mixes a combination of durable non-rusting components; including galvanized baffles and a pristine stainless steel shell. The Saaku is standard with our Cabin Saunas, POD Sauns and Barrel Saunas. The built in control is more convenient with the pre-fab solid log construction. Saaku saunas comes with a 50 lb. box of rocks. Saaku sauna heaters are ETLc approved.
Select a size to download the diagram (PDF).
Where do I hook up the electric heater?
The Electric sauna heater is mounted on the back wall of the barrel sauna near the bottom, the power comes in the back wall about 10" up from the ground for your sauna heater. Refer to the sauna drawing for exact location.
How hot can your saunas get?
Our saunas get to 190° Fahrenheit and up, depending on the conditions outside the sauna.
Do your saunas have the heater with rocks and steam?
Yes, our sauna heaters are all the traditional Made in Canada sauna heater with the rocks on top where you pour water on top to create the humidity and steam.
How much does it cost to operate the electric heater?
Our heater operate efficiently with 220 volts and 40amps of power. This would compare to electric oven or clothes dryer, and only takes power when you are using it compare to a spa or hot tub that runs all the time.
What type of base does my sauna require?
Any solid level area is OK to install your sauna, a wooden deck, concrete pad, crushed gravel or patio stones are ideal. As long as it is solid and level and the water can drain away.
Can I stain or paint my Sauna?
You can stain or paint the outside of you sauna, do not put anything on the inside. Any semi-transparent outdoor stain will work, Sikkens is a very good product to use.
Can we put a MINI POD Sauna indoors?
Yes, our saunas have been installed indoors and works just as good as outdoors, heat up times will be even less.