Home / Products / Panoramic View Cedar Barrel Saunas
Panoramic View Cedar Barrel Saunas
Our Western Red Cedar barrel saunas have 1 1/2″ thick walls for a long natural insulation and the barrel design give you a much smaller heating area than any rectangular sauna with plenty of room for bathers. With up to 3 different bench options to choose from friends and family can comfortably enjoy a relaxing time in the sauna.

Features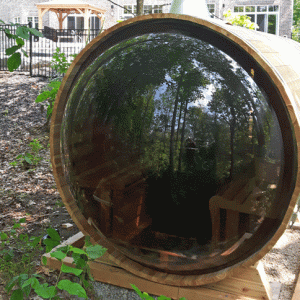 Dome
Bronze Tinted Acrylic Dome Window.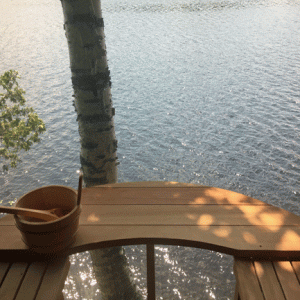 Dome Bench
Half moon shaped bench in dome for spectacular views.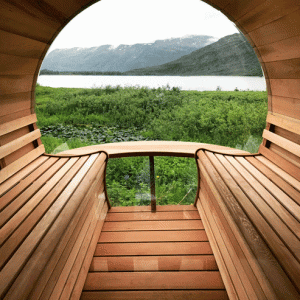 Clear Cedar
Clear western red cedar without knots.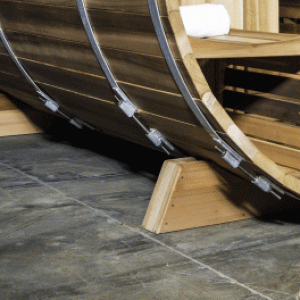 Bands
Marine Grade Aluminum Bands with stainless hardware to tighten.
Upgrades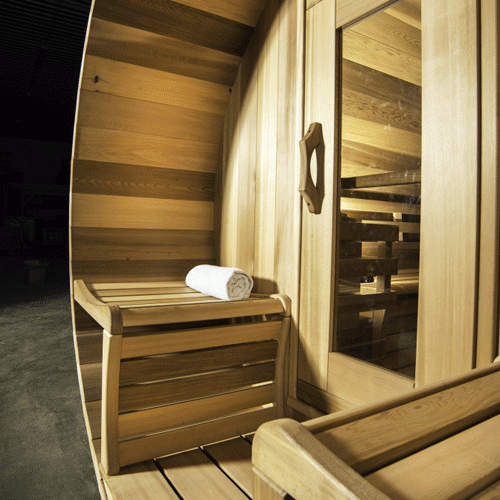 Front Porch
This 2' (60cm) front porch option provides a comfortable cooling down area outside your sauna.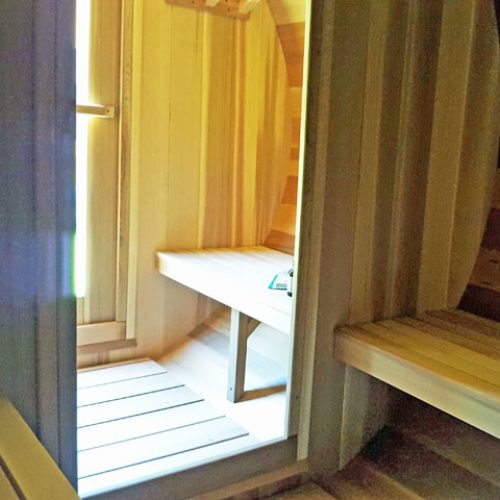 Changeroom
4' (120cm) Changeroom With Benches offers a convenient changing area when your sauna is farther away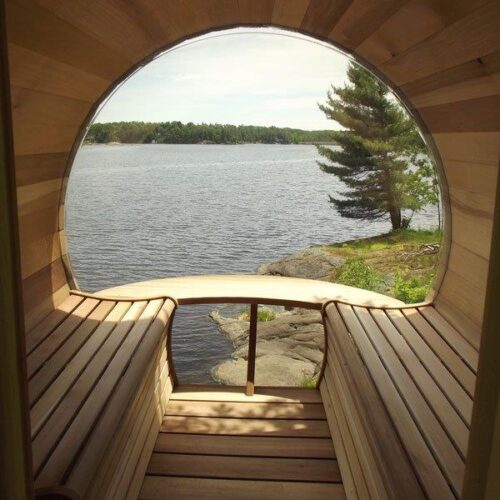 Signature Benches
Upgrade the inside of your sauna with signature benches, backrests and floor all included.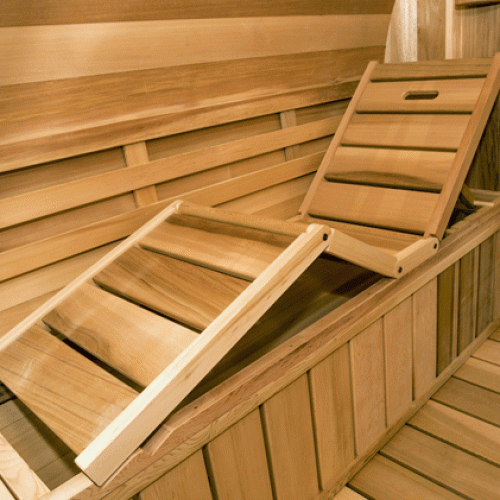 Lounge Benches
Adjustable lounge benches available only in 7' (214cm) diameter barrels and only 7' (214cm) or 8' (244cm) long saunas.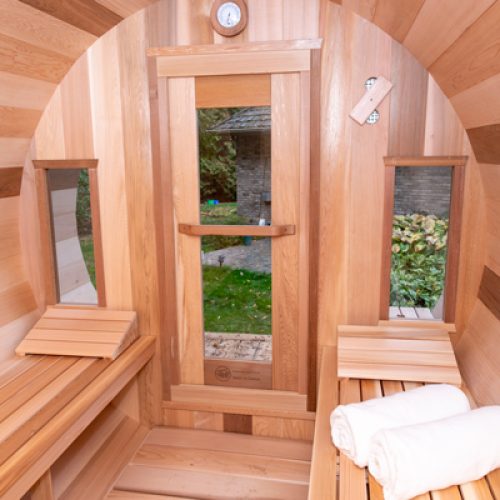 Front Windows
2 Windows in Front Wall add more natural light for the inside of barrel sauna.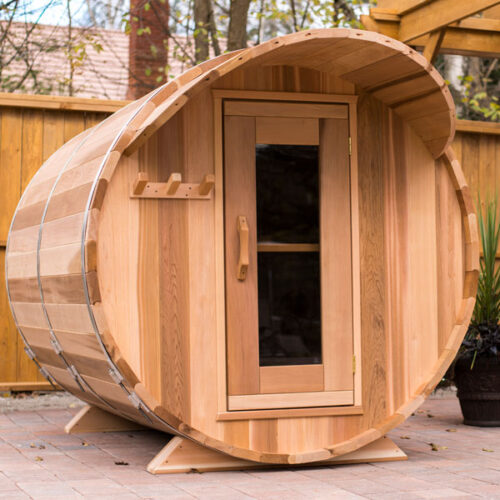 Overhang Cove
Overhang Cove on front wall above door, keeps the rain and snow away from the open sauna door.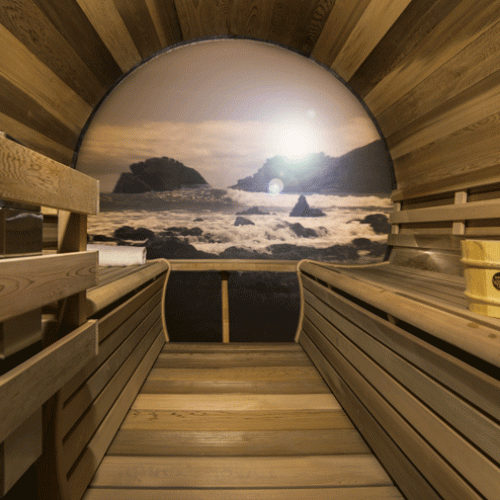 Flat Floor
Flat floor on inside of sauna. (must be included with Harvia heater)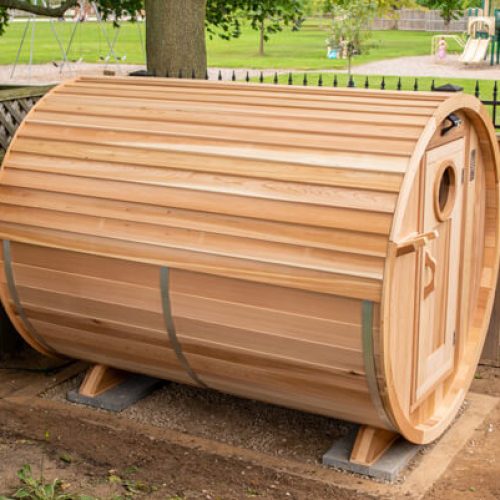 Bevel Siding Roof
EPDM Rubber roof with cedar bevel siding and trim on front and back.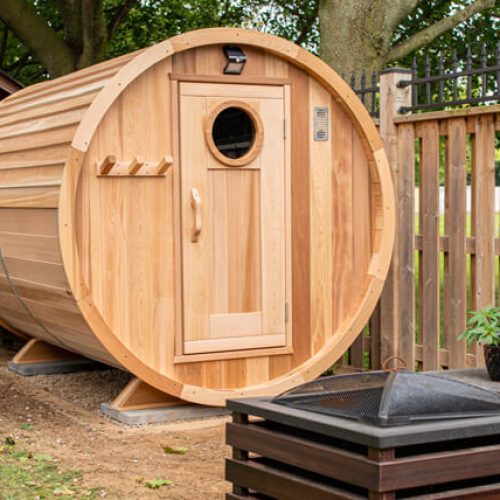 Round Window
Add privacy to your sauna with a smaller door window.
Accessories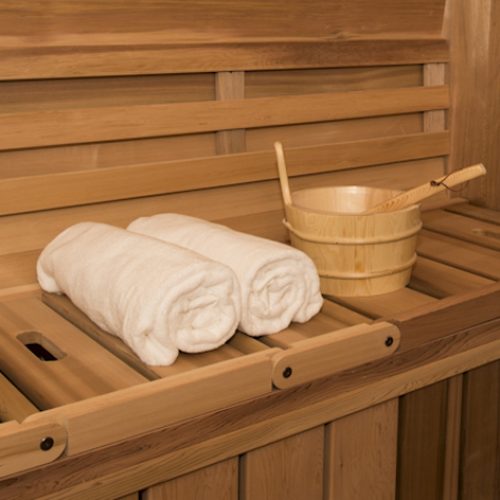 Bucket And Ladle
Our pine 4 litre Sauna Bucket with plastic insert is perfect for any sauna. The wood ladle is the perfect size to add water to the rocks and get the steam that you need.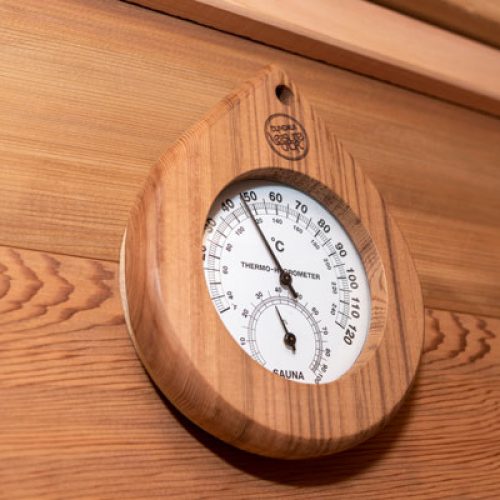 Thermometer
Our wood thermometer is the ideal way to ensure you get the sauna to the desired temperature.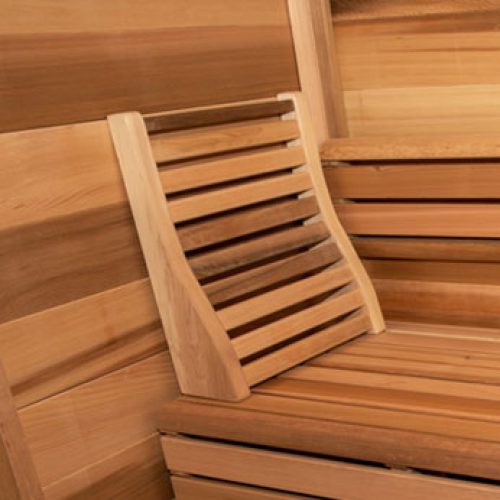 Elite Backrest
This cedar backrest will make your stay in the Sauna so much more comfortable.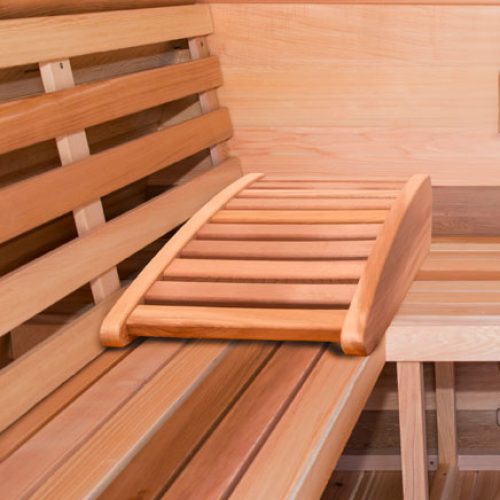 Comfort Backrest
This dual purpose cedar head or backrest is made for comfort. Use for your back or to lay down and use for your head. You will never have been so comfortable.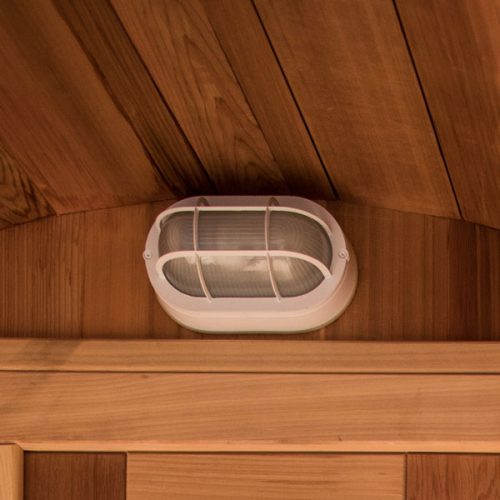 Interior/Exterior Electric Light
This light works great inside or outside your sauna. The frame is very strong and attractive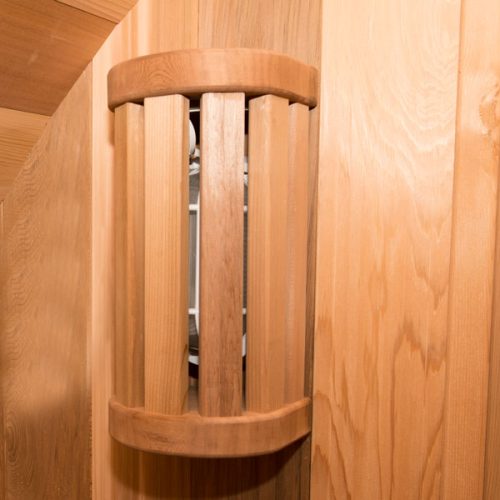 Cedar Light Shade
This stunning cedar light cover is perfect to cover our wall mounted light.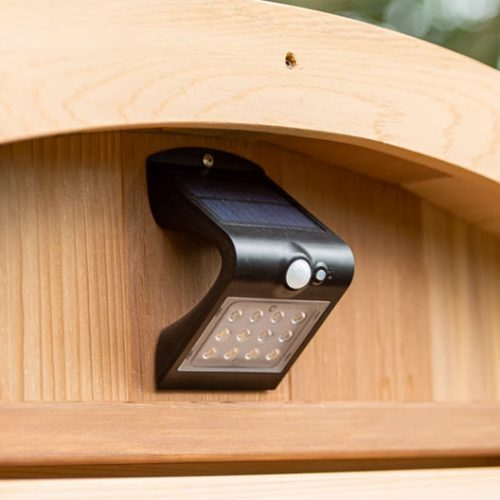 Outdoor Solar Light
This outdoor solar light is perfect to light up the entrance to your sauna. Easily mounted to your sauna.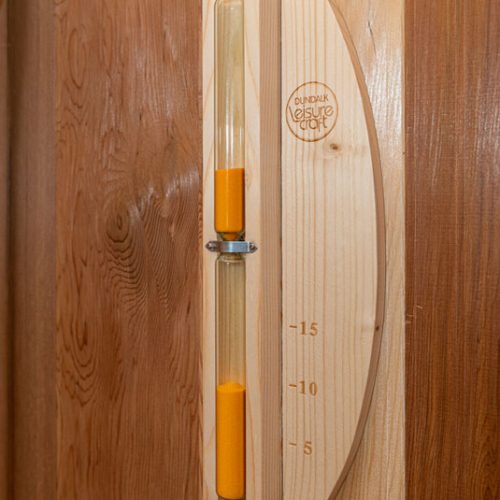 Wall Mount Sand Timer
This sand timer is perfect to mount in your sauna to keep track of time you are in there and enjoying the benefits of your sauna.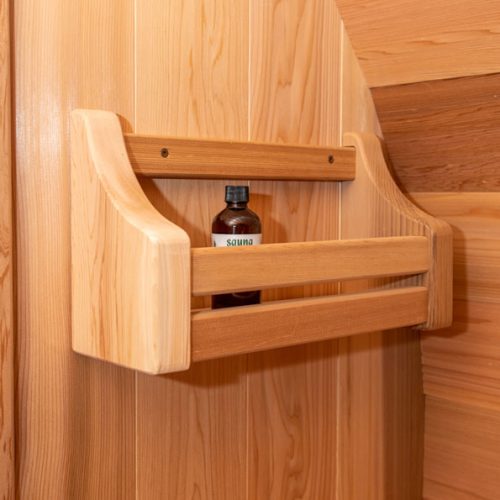 Cedar Bottle Shelf
This shelf is perfect for keeping your Eucalyptus bottle or water bottles safe while you use the sauna.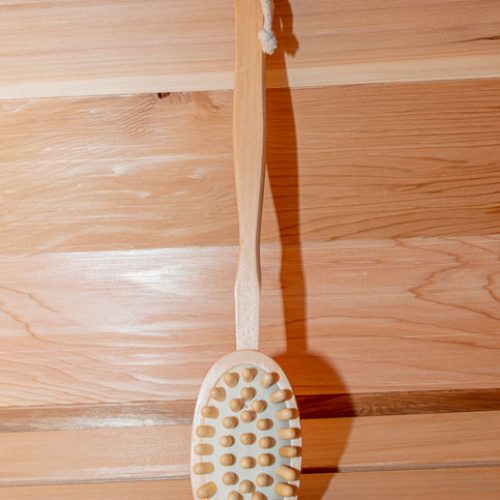 Massage Brush
Add This Massage brush to your accessory collection for relaxing sauna secessions.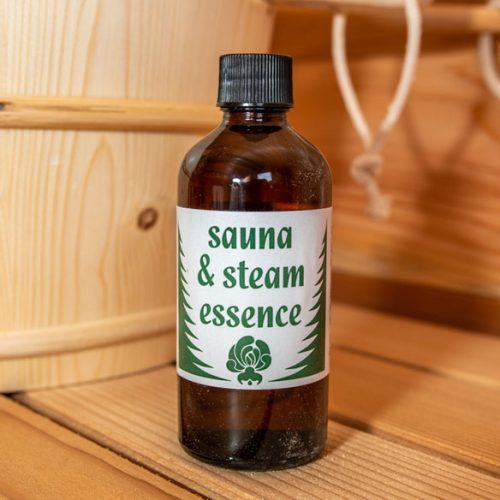 Essence Oil
Mix this Eucalyptus Oil into the water and when you add to the rocks you will enjoy all the benefits of aromatherapy. This aroma is beautiful and very relaxing.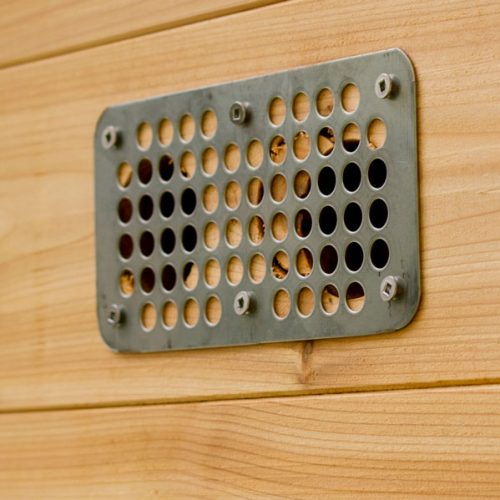 Vent Kit
Vent kits provide an even air flow through your sauna making it possible for higher more significant temperatures.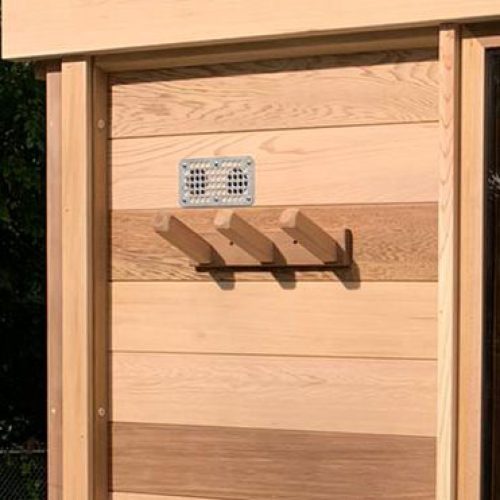 Hooks
Add 3 solid cedar wooden hooks to your sauna for a nice place for your towels.
Heaters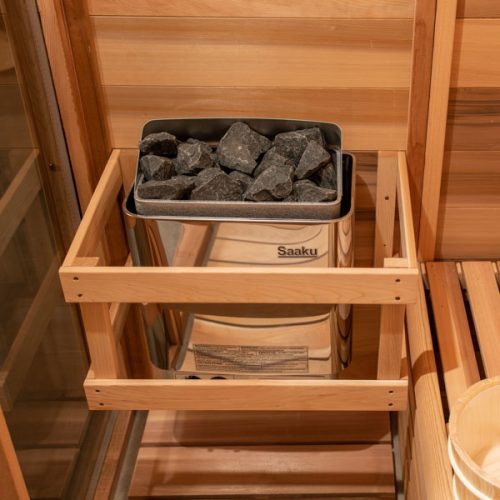 Electric Sakku Heater
Saaku Electric Sauna heaters have the control built in the front base and are ETLc approved.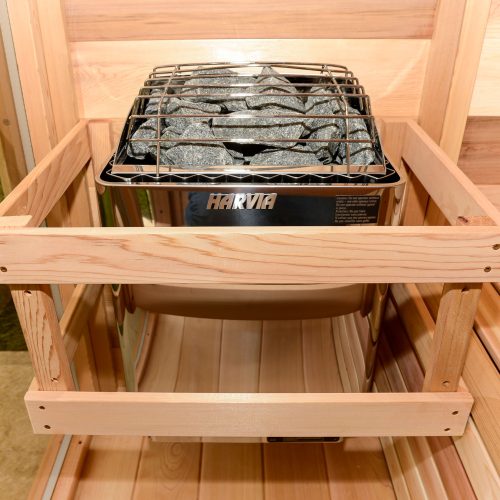 Electric Harvia KIP Heater
Harvia KIP Electric Sauna heaters have the control built in the front base and are ULC Approved.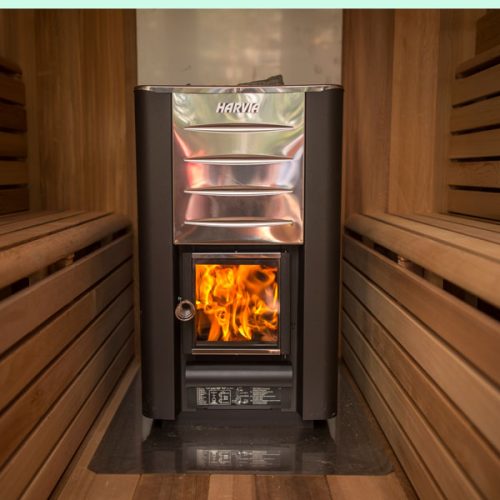 Wood Burning Harvia Heater
Inside feed Harvia wood burning heater is Made in Finland and features a glass door.
Warranty
Dundalk LeisureCraft Inc. warrants our saunas against defects in materials and workmanship under normal/residential use for a period of five (5) years, as applicable, from the date of receipt of the product by the original end-user consumer. This warranty does not apply to normal wear and tear and/or natural weather conditions. This warranty does not cover regular required maintenance of the sauna, (eg. Tightening bands on the barrels, cleaning or staining the sauna) refer to your sauna assembly manual for maintenance guidelines. This warranty does not cover misuse or negligence and the manufacturer and associated retailers are not liable for any injury or damage caused by the product. This warranty is a parts only warranty and any service or labor costs would not be considered as part of the 5 year warranty.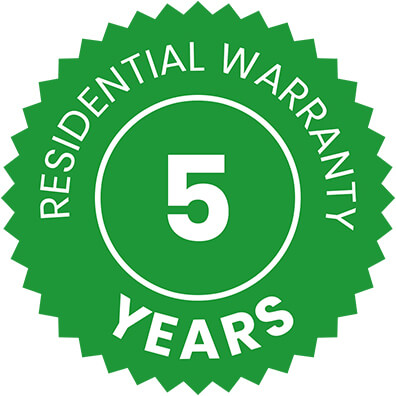 Support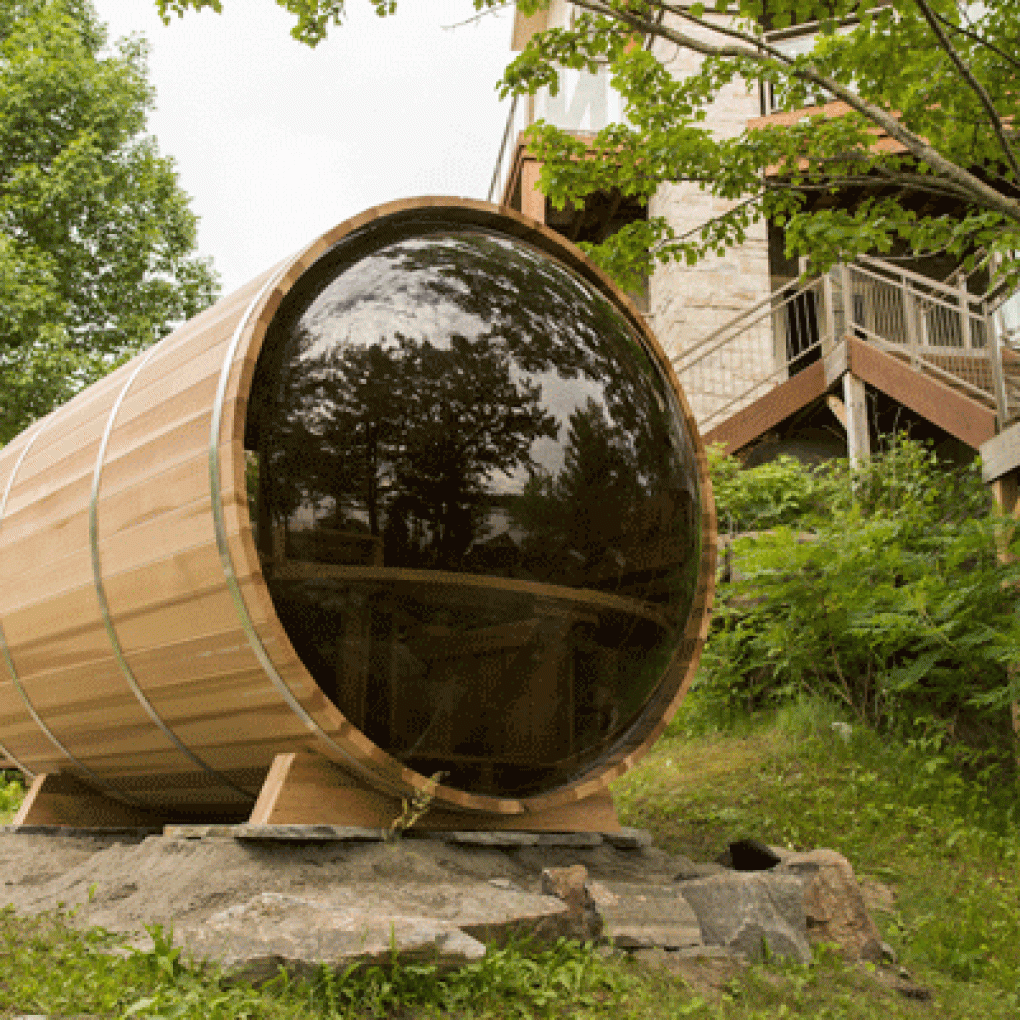 Contact Us
Panoramic Sauna Installation (Signature Benches)
Panoramic Sauna Installation (Lounge Benches)
Bevel Siding Roof Installation
Premium Panoramic View Clear Western Red Cedar Barrel Sauna. This sauna comes with an acrylic bubble back wall that allows you to see the beautiful view of you lake or landscape from inside the sauna. This unique sauna feels spacious and the views just add to the relaxing feeling when in the sauna. Western Red Cedar Barrel Sauna made with 1 1/2″ cedar boards and stainless steel hardware will ensure this barrel sauna lasts a long time.
Add The Signature package for a premium look. Includes: Built in Floor, Premium benches with arch seat, Cedar slates between bench to the floor. Built in back rest for better comfort and Premium bench on porch if porch is selected.
Saaku Electric Sauna heaters are manufactured by TyloHelo Inc. The Saaku CP models have the control built in the front base. The mixes a combination of durable non-rusting components; including galvanized baffles and a pristine stainless steel shell. The Saaku is standard with our Cabin Saunas, POD Sauns and Barrel Saunas. The built in control is more convenient with the pre-fab solid log construction. Saaku saunas comes with a 50 lb. box of rocks. Saaku sauna heaters are ETLc approved.
Panoramic Barrel Sauna Assembly Instructions
Instructions de montage du sauna baril panoramique
Download PDF
Select a size to download the diagram (PDF).
Does the Acrylic dome bubble fog up when using the Panoramic Sauna?
The Acrylic Panoramic View Sauna bubble window only fogs up right after you put water on the heater, it will last for a few minutes or less and then disappear again.
Where do I hook up the electric heater?
The Electric sauna heater is mounted on the front wall of the barrel sauna near the bottom, the power comes in the front wall about 10" up from the ground or right through the bottom of the floor for your sauna heater.
How hot can your saunas get?
Our saunas get to 190° Fahrenheit and up, depending on the conditions outside the sauna.
Do your saunas have the heater with rocks and steam?
Yes, our sauna heaters are all the traditional Made in Canada sauna heater with the rocks on top where you pour water on top to create the humidity and steam.
How much does it cost to operate the electric heater?
Our heater operate efficiently with 220 volts and 40amps of power. This would compare to electric oven or clothes dryer, and only takes power when you are using it compare to a spa or hot tub that runs all the time.
Can we put a Barrel Sauna indoors?
Yes, our saunas have been installed indoors and works just as good as outdoors, heat up times will be even less.
Can I stain or paint my Sauna?
You can stain or paint the outside of you sauna, do not put anything on the inside. Any semi-transparent outdoor stain will work, Sikkens is a very good product to use.
What type of base does my sauna require?
Any solid level area is OK to install your sauna, a wooden deck, concrete pad, crushed gravel or patio stones are ideal. As long as it is solid and level and the water can drain away.